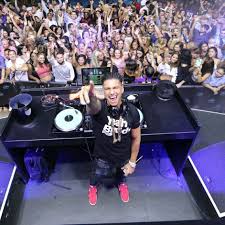 Over the Australia Day long weekend, Jersey Shore star DJ Pauly D – he of the 9.1 million Facebook fans (that's more than double Armin van Buuren – boom!) – set off on his mission to educate Australia in the true, expansive art of DJing. Or something. Sure, this wasn't a tour for the purists, but it would be churlish to deny the dude has an audience.
As one such fan asked on his Facebook page ahead of the 16+ Sydney show: "What the heck is the dress code? Is it like festival clothes?" Here at inthemix, that wasn't the only question we were pondering. What would DJ Pauly D play? Would his journey be comparable to Sasha's five-hour marathon happening on the same night in Sydney?
In order to get some answers, we went to Andrew Wowk: inthemix contributor, chinstroker-approved DJ around town and dance music nerd with "uncompromisingly high standards, an unnecessarily obtuse vocabulary, and at times overly deep and wanky analysis" (his words). The perfect reviewer then, for DJ Pauly D In Concert (Andrew agreed, but had to back up that night for the farewell set from Sydney techno authority Defined By Rhythm, a gig itinerary for Saturday shared by exactly no one else in the city). Of course, this isn't the definitive review. But it may be the most unapologetically wanky one.