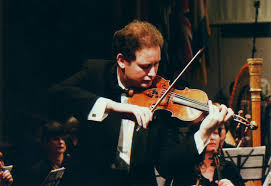 Twenty seven year old musician, Erin, is a first violinist for the Cairns Concert Orchestra, leader of the Cairns Chamber Ensemble and a member of the string quartet Strings 4. Erin's achievements are all the more impressive, knowing that she has had a degenerative hearing loss for almost twenty years.
As a young child, Erin's hearing loss went undetected, as it seemed impossible that an extremely talented, budding violinist, who relies heavily on sound precision, could be having hearing issues.
It wasn't until Erin was 15 years old, after turning the TV volume up consistently loudly, that Erin saw Dr John Wells, who diagnosed her with 20 per cent degenerative hearing loss and was immediately referred to Australian Hearing Cairns.
The team at Australian Hearing assessed Erin further and recommended for her to be fitted with hearing devices, a time Erin remembers vividly:
"Australian Hearing suggested I bring my violin to the fitting, which was a brilliant idea, as we were able to fit my hearing aids to suit my violin volumes. I remember hearing sounds again for the first time in years, including birds singing. It was funny, I actually thought the birds were inside my head as they sounded that close – much to the amusement of everyone around me," Erin laughed.
School was often a lonely time for Erin. Erin noticed her hearing loss from as early as eight years old, but because her hearing loss wasn't detected until her mid-teens, it meant that she missed out on social conversations, which often lead to lack of friendships.
Today, Erin has a number of very close friends, and has been living with her partner, Robbie Johnstone, accomplished conductor and violinist, for the last 7 years.
By day, Erin is a Payroll Officer and by night, loves playing in her various music groups, especially performing Classical pieces and modern movie themes. Erin said of her relationship with Australian Hearing:
"Australian Hearing has been fantastic to me, they are like family. They always fit my appointment times around me, not them. The best thing is, that they have fitted me with new hearing aids, as technology advances. Previously, people used to sound like robots to me when I wore my aids."
"Now, with my new aids, the difference is dramatic. The volume levels are perfect, the filters are so much better, which means I can focus on the sound brilliantly."
Erin's Italian made violin is a treasured possession. But her most treasured possession of all are her Siemens hearing devices, fitted by Australian Hearing, because without her hearing aids, there would be no music in her life.