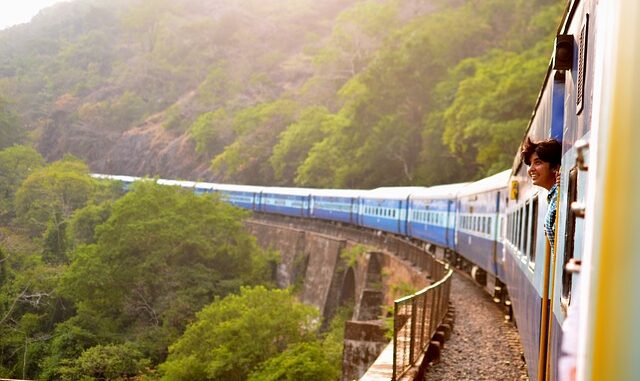 Nowadays, as traveling becomes faster and faster, trains are gradually losing their special charm. Sure, they're no match for jet planes in terms of speed, but when it comes to comfort, you'll be amazed by how much some travelers are ready to pay for a trip in one of these luxurious trains below.
The Blue Train, South Africa (ticket price: from $740)
Want to enjoy the picturesque African savannah and see kangaroos, antelopes, giraffes, and bison with your own eyes but prefer to stay away from wild conditions and real danger? Then this one is just for you. A trip on this classy train with richly decorated compartments will give you emotions you'll never forget. Passengers are free to enjoy a bar-restaurant, a lounge, a gentleman club, and even a boutique. Travel time is about 31 hours. It's best to go on a trip with a soulmate.
Maharajas Express, India (ticket price: from $3,850 to $23,700)
This is one of the most expensive trains, not only in Asia but in the world. That's not surprising because the trip includes a long journey that lasts from 3 to 7 nights, depending on the package you choose. Maharajas Express is furnished in the style of private carriages of Indian Maharajas. There are four room types: Deluxe cabin, Junior Suite, Suite, and Presidential suite, as well as recreation rooms, bars, restaurants, and other amenities.
Royal Scotsman, Scotland (ticket price: from $3,400)
This cozy train, decorated in a classic style, takes you on a trip through Scotland. There are several tourist packages – from 2 to 7 nights, depending on the route. You can also choose compartments of three categories: single, twin, and double, as well as bars and restaurants. Magnificent mountain landscapes, ancient castles, and wineries – all this won't leave even the most spoiled traveler indifferent. Every day, the train makes stops so you could take a walk around one of the towns along the route.
Eastern & Oriental Express, Asia (ticket price: from $5,328)
Planning a trip to Asia? A voyage through Singapore, Thailand, and Malaysia aboard the luxurious Eastern & Oriental Express will help you make this plan a reality in the most comfortable way. This hotel on wheels offers its passengers three categories of compartments (Presidential, State, and Pullman), a restaurant, a bar, and an open wagon for the best view.
The Golden Chariot, India (ticket price: from $3,500)
The Golden Chariot tourist train is considered one of the most beautiful in the world. During a 7-day trip, you can enjoy the marvelous landscapes of South India. The price includes meals, excursions, and entrance tickets (to museums, palaces, etc.), but alcoholic beverages are only available for an additional fee. Passengers are offered two restaurants, a bar, a spa, as well as cozy single, double, and triple compartments.
The Golden Eagle, Russia (ticket price: from $15,495)
It's the most expensive passenger train in the world. One of the cars was turned into a bar which has a piano and a small library.